In the list of advisors, a filter can be set to display advisors:
by advisor

faculty
department
advisor currently active/not active
advisor's name
advisor's surname
advisor from, until - will restrict the list of filtered advisors to those who acted as advisors within the specified time interval only (the interval is not inclusive of the beginning and end dates - i.e. if the filter "advisor from" is set to the year when the teacher became an advisor, his/her name will not appear the search results).
by doctoral students

accredited branches of study only - default checked. Checking the box will restrict the list of study programmes and branches of study in the filter menu.
study programme
branch of study
study status
student's name
student's surname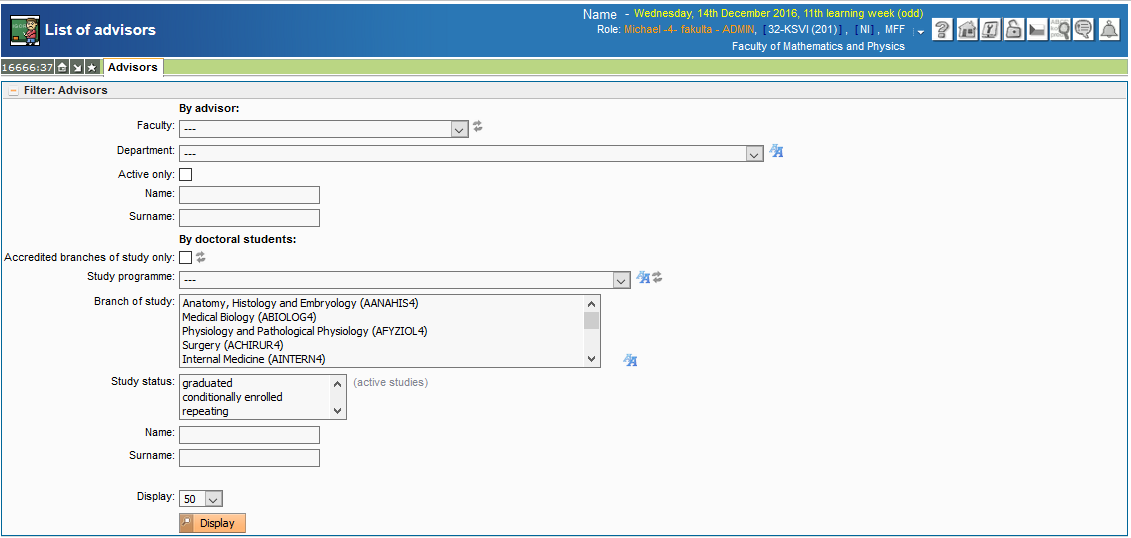 The final list can be sorted using arrows

next to the column name.

The number of doctoral students matching the filter settings and the number of all doctoral students do not include past results, i.e. only currently supervised students will be displayed.
If the advisor is supervising doctoral students at multiple faculties (and the filter is not set to display a specific faculty only), the results will be grouped into a single line - see picture below.