Noticeboard for anonymous users
Anonymous users can read and search existing notices (posted by anybody and concerning any course). Please enter your search criteria into the form. You can search by
faculty
course code
course title
schedule item
surname
date of the last change of the notice
department of the teacher
It is necessary to use the accented Czech letters. It is possible to enter a part of the string as a search criterion as well. If you leave a blank field, the criterion is not considered for the search.

Form for searching notices
Press the Display button to find and show only notices satisfying all your criteria.
Only the basic informations about each notice are given in the table of found notices - faculty, course, person, department, date of the last change of the notice, and its title. Click on the icon

or on the title of the notice to see the details (including the attached files). The details contain:
course
schedule item
person
department
notice actual since
notice actual until
date of creation of the notice
date of the last change of the notice
title of the notice
text of the notice
files attached to the notice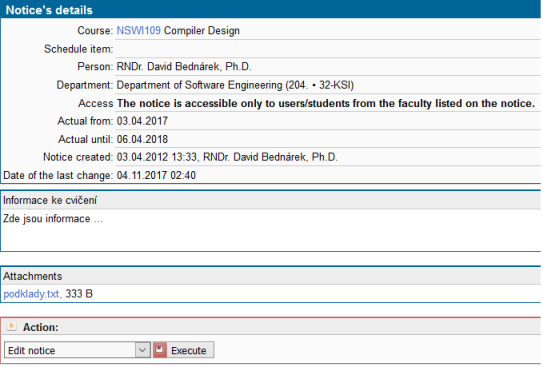 Notice
Files can be attached to the notice. The files can be (by default) opened or downloaded only by logged-in users. Anonymous users can see only basic informations about the file (name of the file and its size), but they cannot open or download the file. In case that anonymous users can work with a file, there is a link to this file as well.
The application supports the format RSS (Rich Site Summary) for delivering regularly notices.